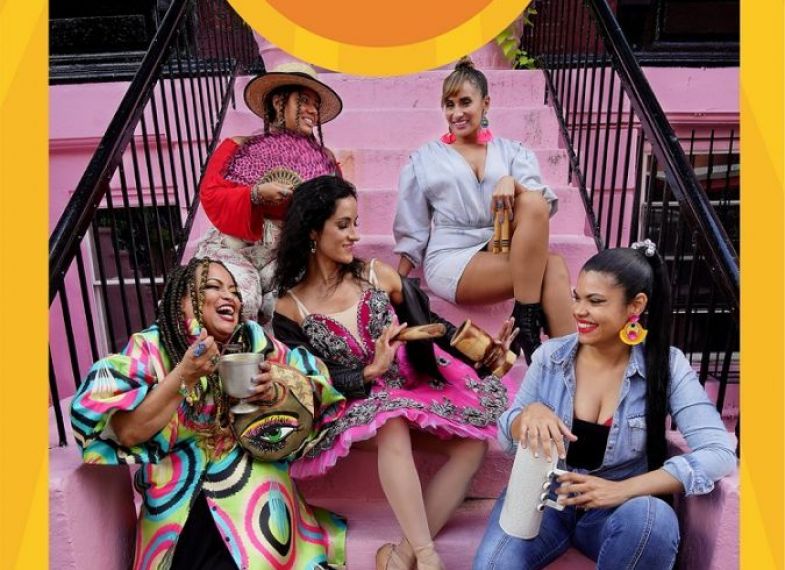 Narrated/Hosted by Rhina Valentin
Featuring the mixed blends of Jazz Soulstress Jenn Jade Ledesna, Bachatera Andre Veloz, Tap Dance Sensation Michela Marino Lerman and La Ballerina Elisa Toro Franky
Co-written by Ivelisse Rodríguez and Rhina Valentin
For Sancocho, a musical theater work starring, conceived and co-written by Rhina Valentin, the Latin American and Caribbean culinary community is personified by way of the titular meat and vegetable stew that serves as both Rhina's personal COVID coping mechanism and the play's central metaphor. Throughout lockdown, Valentin would whip up a weekly batch of sancocho while contemplating the dish's gustatory and historically rich flavor. Featuring an all-woman latinx cast and a four-piece band, Sancocho brings Valentin's experience to vibrant life in a celebration of the power of ancestry and food as medicine alongside the artistry of jazz soulstress Jenn Jade Ledesna, bachatera Andre Veloz, tap dance sensation Michela Marino Lerman and la ballerina Elisa Toro Franky.
*Please stay home if you don't feel well, have exhibited symptoms of COVID-19 in the past 10 days, have tested positive for COVID-19 within the past 10 days, or been in contact with someone with COVID-19 in the past 10 days.
---
TWO WAYS TO GET SEATS
1. This performance is open to day-of general admission. Beginning one hour before the show, non-ticketed guests will be invited to claim any available seats in the open seating section—first-come, first-served. Please read more in the General Admission Policy section on this page.
2. Assigned seats are available via the TodayTix Lottery. Enter for a chance to win one FREE pod (two seats), starting two weeks before the show. Entries close three days before a performance at 12:59 pm ET. Ticket-holders must arrive at least 10 minutes before show time to guarantee seats. Enter the Lottery through the TodayTix app or by calling Lincoln Center Guest Services at 212-875-5456.