Founded in 1996 by local, visionary property owners, businesses and not-for-profit institutions, the Lincoln Square Business Improvement District (BID) is a 501(c)3 not-for-profit that improves the quality of life in Lincoln Square, a world-famous cosmopolitan area on Manhattan's Upper West Side. As a steward of the neighborhood, the BID makes sure curbs and sidewalks are clean and safe, public spaces are lushly planted, and that fun-and-free marketing events put Lincoln Square in the spotlight.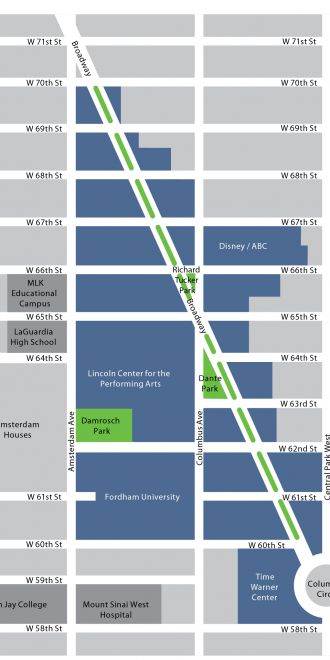 The Lincoln Square BID is a public-private partnership governed by a Board of Directors and derives its revenue from an annual assessment on all real property located within the boundaries of the BID. Members of the BID include property owners, businesses, hotels, restaurants, retailers, cultural and non-profit institutions, public officials and residents.
The BID's mission is to make Lincoln Square cleaner, safer, and more beautiful, and to undertake various improvement projects. We focus our efforts on supplemental sanitation and security services; the beautification of public spaces, malls, and parks; and the promotion and marketing of the area's diverse business and cultural offerings. The Lincoln Square BID acts as a catalyst, working with business, community, and city partners, to promote positive change in Lincoln Square. Our programs and initiatives, including Winter's Eve at Lincoln Square – New York's largest holiday festival, are designed to foster tourism, and to showcase the rich and varied resources of this vibrant Upper West Side neighborhood.
Three hundred and sixty-five days a year, the BID plays a number of vital roles in its district acting as neighborhood planner, caretaker, problem solver, marketer, and promoter of economic development. To help maintain the neighborhood's liveliness, the BID privately contracts the well-trained members of its Clean Team, and all of its Public Safety Officers (PSOs), to supplement the City's sanitation, maintenance and security services. The BID and its Public Safety Officers make efforts to address daily quality-of-life issues such as homelessness, unlicensed vendors and uncollected trash. The BID also communicates with City agencies on issues that range from dangerous intersections to broken street furniture.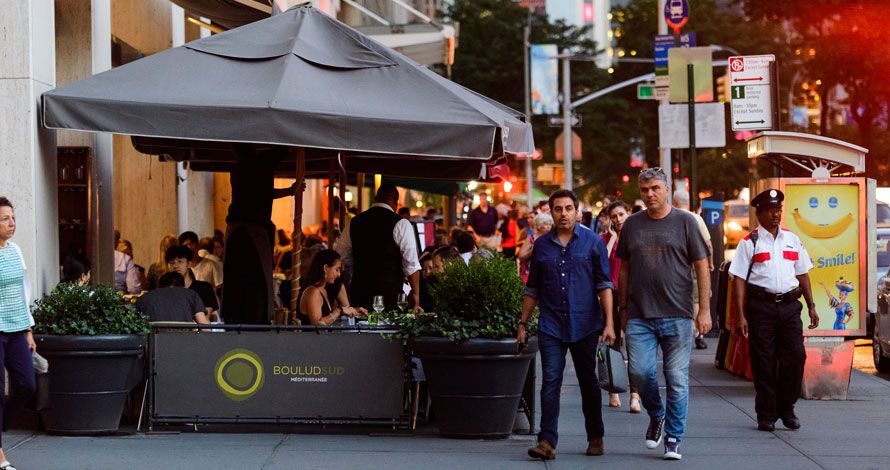 In Lincoln Square's public spaces and Broadway Mall gardens, the BID celebrates nature's most delightful seasonal changes with beautiful cultivars. Its parks and Broadway's large center islands (Broadway Malls) make chameleon-like changes from brilliant panoramas of bold tulips to sweeps of sunny wildflowers to evergreen shrubs and lighted trees.
In its marketing role, the BID invites the public to sample the pleasures of Lincoln Square – diverse and stylish shopping and dining venues, as well as the world's finest music, opera and dance performances. The BID's Information Carts reach large audiences with a multitude of publications on the neighborhood's retail, cuisine, and cultural amenities. When the weather warms up for summer, audiences head to Richard Tucker Park every Wednesday afternoon during July and August for the BID's Free Lunchtime Concert Series. The BID programs these outdoor concerts, bringing in NYC musical artists, ranging from swing bands to opera groups, which brighten up the neighborhood's lunchtime hours.
At year's end, more than 25,000 revelers zip up their warm coats and head to Lincoln Square for Winter's Eve at Lincoln Square, New York's largest holiday extravaganza including the Upper West Side's only tree lighting ceremony. This celebration is the BID's signature event, full of free musical performances, fun family activities, and enticing fare from local restaurants, along with other fabulous entertainment all evening.
The BID's unwavering commitment to the area is likewise evident in its continued strive for progress. For instance, the BID spent many years working towards updating the district's two parks, Dante Park and Richard Tucker Park, by submitting new designs and advocating for renovations; these parks are now beautifully rejuvenated. More recently, the BID has been working with DOT and Lincoln Square stakeholders on the 65th Street Bowtie Project. The result is expanded parks, new crosswalks, an extension of the Columbus Avenue Bike Lane, and other pedestrian safety improvements.