Business Spotlight
10 Tasty Ways to Enjoy Fall in Lincoln Square
Oct 5, 2021

It's finally fall! The days are cooling off and the foliage is changing, inspiring new cravings when it comes to food and drink. Whether you're in the mood for hot soup, flavored coffee, or a seasonal dinner meal, check out 10 items from local eateries in Lincoln Square that bring out the flavors of autumn (many of our restaurants listed here were also listed in a great Thrillist article, too)!
Dishes for lunch or dinner…
Rosa Mexicano (61 West 62nd Street at Columbus Avenue): Enchilada de Calabasa al Carbón on the October Tour de Mexico Menu—For the month of October, enjoy a location-specific chef-curated menu with some seasonal flavors, including these fall-inspired enchiladas filled with squash and zucchini. Click here for the Tour de Mexico October Menu. Rosa Mexicano also has a new all-day menu which became available at the end of September!
Nougatine at Jean-Georges (1 Central Park West at Columbus Circle): Roasted Delicata Squash and Escarole Salad; with pumpkin seeds, Pink Lady apples, and yogurt dressing—a fanciful French-inspired dish with notes of fall flavors. Click here to view Nougatine's menus.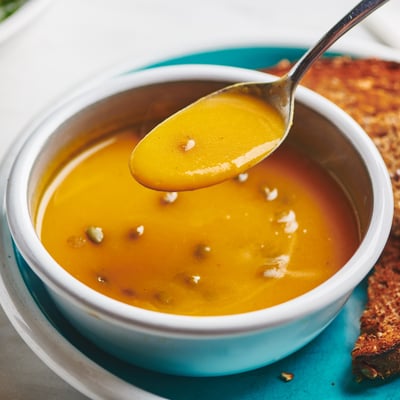 Tartinery (10 Columbus Circle): Butternut squash soup—enjoy this classic autumnal soup from Tartinery with onion, nutmeg, and butter, served with seven grain toast. Order it at the counter or online for pick up on your next lunch break as we settle into this chilly season.
Boulud Sud (20 West 64th Street at Broadway): Butternut Squash Agnolotti; ricotta, brown butter, pumpkin seeds—nothing says autumn quite like the sweet and savory combination of squash and butter. Enjoy Mediterranean flavors with a seasonal twist! Check out Boulud Sud's menu here.
Old John's Diner (148 West 67th Street at Amsterdam Avenue): Chicken pot pie; carrots, peas, pearl onions, puff pastry, and chicken—hot and comforting, a classic chicken pot pie is the fall season dinner equivalent of a cozy sweater! Check out Old John's Diner online here.
Dig (100 West 67th Street at Columbus Avenue): Maple Sriracha Roasted Brussel Sprouts—these tasty veggies are coming to stores with the fall seasonal menu which launches on Wednesday, October 6. Get ready for some locally source fall dishes that will bring seasonal flare to your lunchtime picks. Check back on Dig's website for the menu items coming soon.
Drinks to warm you up…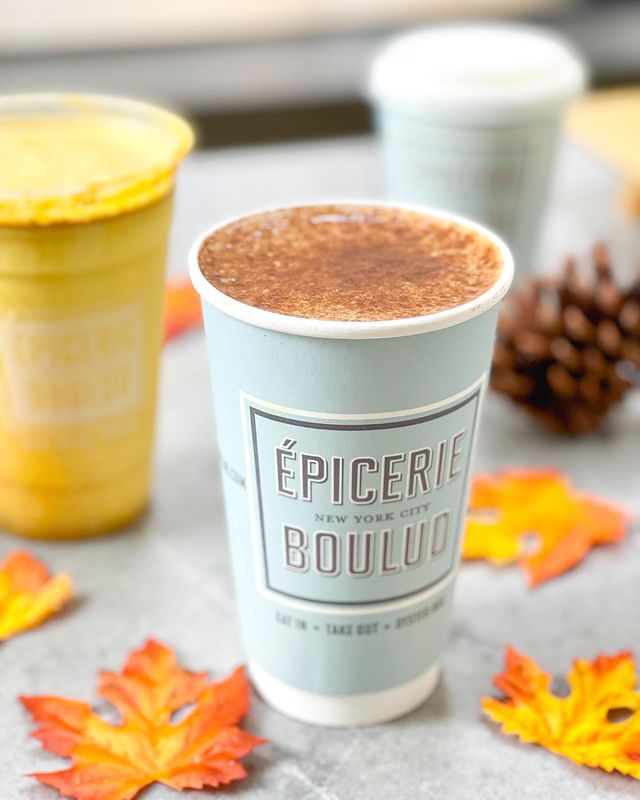 Épicerie Boulud (1900 Broadway at 64th Street): Pumpkin spiced latte—start your morning with the most fall beverage you could order served at a great Lincoln Square café. And, if coffee isn't your favorite hot beverage, you can also enjoy that tasty pumpkin flavor with a chai with pumpkin spice as well.
Le Pain Quotidien (60 West 65th Street at Broadway): Ginger spiced apple cider—Transport yourself to an apple orchard farm with a hot apple cider from Le Pain Quotidien. Feels just like upstate fall fun in the middle of Manhattan. Order online for pick up here and browse other seasonal options on the menu or stop into the store for breakfast or lunch.
MO Lounge (80 Columbus Circle at 60th Street): Arnauld Daughter's cocktail; Caribbean black tea, whiskey, lemon juice—a hot whiskey drink to perk you up against the crisp autumn evening breezes. Enjoy an after-dinner drink above Columbus Circle at the Mandarin Oriental, New York's lounge any time.
Dessert if you're still hungry…
Le Botaniste (156 Columbus Avenue at 67th Street): Apple Volcano dessert; Shredded apples, chia seeds, flax seeds, and cinnamon, served with a cashew cream—the apple and cinnamon combination is a delicious and sweet flavor pairing that evokes fall nicely. Check out Le Botaniste's offerings online here.
We anticipate more restaurants in the neighborhood will release fall menus or special seasonal items, including favorites like The Smith and Bar Boulud! Plus, you can stop by the Greenmarket at Richard Tucker Park on Thursdays and Saturdays to enjoy seasonal produce and sweets for fall, like apples and baked goods.
This is not an exhaustive list of seasonal dishes or delicious food and drink items in Lincoln Square. Check out our Neighborhood Guide for a full list of restaurants open in the neighborhood with tasty menu. And if your Lincoln Square eatery has a special fall item you'd like us to add to this list, reach out to us!
Photo credit
Main image: Eater NY
Article images: Tartinery; Epicerie Boulud